Car wraps are vinyl graphics layers that serve as additional protective coating or sheet and applied over the paint on the vehicle's exterior surface.
These vinyl decals applied directly over the car's paint serve as a safeguard for the surface against small dings, scratches or harsh weather. Not taking much time, these vinyl coats can have a life span that would fit your requirement. You can have a completely customized format of the vinyl coat for your car or get a professional coating done for the business purpose. Whether you would prefer a short, temporary application or a protective wrap that would last a decade, the choice is yours!
Even if the vehicle wrapping doesn't come under your best interest, it is important that you must know about what car wrapping is and how it can help with your vehicle's appearance, paint protection and other benefits.
What Is Involved in a Car Wrap?
Vinyl wraps involve a wide range of applications on different types of vehicles (cars, buses, minivans, boats, motorcycles, trucks, SUVs, etc). They are usually built from high-quality 3M vinyl or Avery cast vinyl materials with multipurpose objectives, ranging from a need to change the vehicle's appearance, add a protective coating or business advertisements.
An individual who's opting for a vinyl wrap might be looking for a different car colour option the factory did not offer, or they could simply be bored with the existing paint colour. Your imagination is the limit to select from the several design and texture options (like a glossy or a matte finish colour gradient) that you would want for your car wrap.
Car wrapping for Dubai citizens mandates by law an RTA permission for advertising on registered vehicles. You can get different advertisement permits for car wrapping in Dubai based on whether you would want a Logo & Trade Wrap, Partial/Half Wrap or a Complete/ Full-body wrapping.
What Does a Car Wrapping Process Involve?
The first step in the car wrapping application is the car's surface cleaning. The car service centre will first get the surface rid of any contaminant present by either getting it detailed or using a soap solution to car wash, followed by its thorough drying.
The step is followed by either having a perfectly-cut vinyl sheet that fits on every turn of the surface or by removing the tail lights, headlights and bumpers, etc. to wrap the vinyl around all edges completely. These are very effectively pressed on a clean surface and will fail to stick on the metal rusts. Any foreign particle, if present between the surface and the vinyl coat will make the installation process difficult and so impurities like dust, dirt or oil will interrupt its firm adhesion to the surface.
Finally, the vinyl wrap is applied to the body surface using a heat gun that makes it more flexible to cover the surface and a scraping instrument like a squeegee to remove all air bubbles/pockets out between the additional layers and the surface. Vinyl wraps stick evenly on the car body surface without leaving the air bubbles on the wrap sheet. The only areas where it could be difficult to get the wrap placed would be a highly curved or an uneven surface. A previously damaged surface will result in a poor appearance from the added layers on it.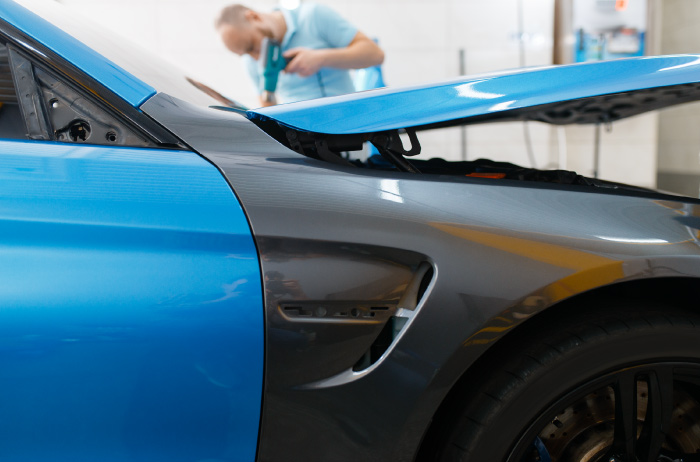 Benefits of Car Wrap
The several benefits of car wrapping include:
Complete Surface Cover – The vehicle wrap will help in providing overall protection keeping your car screened with its additional layers.
Paintwork Protection – As additional layers over the original paintwork, car wraps can be effectively used as its safeguard against the weather and dirt.
Easy to Clean – The glossy finish of the wrapping material not only protects the original factory surface paint from scratches and minor dings, but it also provides a smooth base to make the exterior cleaning easier.
How Long Does a Vinyl Wrap on a Car Last?
The main intention with a car wrap is mostly temporary but depending on the application type and quality of wrap used for a professional installation or long-term design, these can last for five to ten years, as well.
The lifespan of a car wrap varies based on the type of vinyl wrap selected and its purpose. The different types of vinyl coat are designed and customized based on several individual's personal preferences or to meet their business goals. The longevity of the vinyl coat will also depend on the vehicle's usage.
Does Car Wrapping Ruin Your Paint?
Car wrap's vinyl coating does not damage the original factory surface paintwork finish. These are easy to remove and can be taken out smoothly without damaging the paintwork.
With time the paintwork does not get damaged and the vinyl coat remains intact. The only chipping will be on a previously damaged surface which was uneven or rusted before the vinyl's application.
For all your car service and car care related queries, visit Carcility. Whether it is a car wash, car detailing, car polishing or a regular car maintenance requirement, all you've got to do is select your service and get instant, transparent quotes from the best service providers in the region. Select the one that fits your requirement and avail free pick and drop facility, along with free live-service tracking feature, from the comfort of your home. Download the app and experience for yourself the complete hassle-free car care.