If you are a hard-core car racing enthusiast, in Dubai you will be spoiled for choice. Motorsport is an extremely popular form of entertainment and recreation in the Emirates and it offers something for every kind of Motorsport fan. From car racing to karting, motocross to motorbikes and quad-bikes, you can try your hand at circuits in Dubai and throughout the United Arab Emirates (UAE). Whether it is the adrenaline high that you're after, the opportunity to de-stress and escape from everyday life that you're seeking, or even if you want to simply enjoy an entertaining evening, the Dubai car race scene delivers.
Motorsport in Dubai, and in the UAE in particular, is a well-developed entertainment industry. In fact, MotorCity in Dubai is a property developed around a Motorsports theme and includes residential units, business towers, retail and an upcoming theme park in addition to Motorsports facilities. The motorsport scene had its roots during these years of prosperity. Here we explore why Dubai remains a good destination for car racing, and the allure it holds for amateur and professional car racing fans from around the world.
Why is Dubai a Good Destination for Car Racing?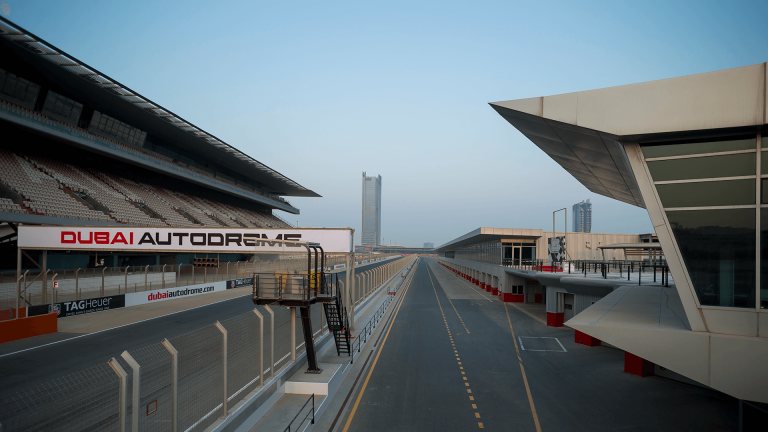 Home to the Dubai Autodrome:

The Dubai Autodrome, located in the heart of Motor City, was developed to promote UAE racing at a national level. A veritable treat for car racing fans in Dubai, it is the UAE's first fully integrated multi-purpose Motorsport and entertainment facility. It contains an FIA-sanctioned 5.39km circuit that opened on October 2004 and has hosted the now-defunct A1 GP and GP2 Asia, as well as the annual automobile endurance race, the Dubai 24 Hour, every year since 2006. Some of the world's most accomplished car racing drivers have driven competitively or visited this circuit. Think Michael Schumacher, Kimi Raikkonen, and Jenson Button and Nico Rosenberg to name a few.

Dubai Autodrome offers a chance to F1 fans to get a feel of single-seater racing in specially-prepared cars on the oval circuit, with different stages available depending on the driver's experience. If on-track action isn't your idea of fun, the Emirates Motorsport Expo held annually at the venue has something for every Dubai car racing fan: various track experiences, food trucks, racing simulators, a kart auction, and car exhibits.

A good place to learn:  

Whether you're a Motorsport newbie or a driver looking to break into the local car race scene, Dubai offers a wide range of championships and supports karting, Touring Cars, GTs, Radicals, and Formula series. There are some points to keep in mind before you turn your dreams of becoming a racing car driver into reality, and Dubai has the facilities and infrastructure to help you get there. Driving a car race requires a special race license so remember to apply for one if you don't have one already and ensure your existing one is up to date. From go-karting to F4, from two wheels to four, there are plenty of choices for aspiring racers to choose their categories. For car racers who have reached an advanced stage of amateur racing, multiple teams with vehicles and services are on offer to take their expertise to a professional level.

Excellent facilities for Motorsport events:

Since the UAE hosts several major international racing events, it has access to the best of facilities like racetracks and a circuit for Formula 1 at the Yas Marina Abu Dhabi Grand Prix. Thanks to this premier event, everything from the track, to the paddock, to the trained marshals (individuals responsible for the safety of racing competitors, who are stationed at various points of danger around race tracks to provide assistance in case of collisions, accidents or track problems) are of international standards, and promote involvement in Motorsports throughout the Emirates region.

Encourages Motorsport other than car racing:

Dubai isn't limited to cars for those looking to rev up their engines. Keen bikers can take to the Autodrome on designated days to feel the adrenaline rush. The Dubai Motocross Club is where you can try your hand at sand-spraying, whether it is motocross or quad bike that you fancy. Karting is another favorite activity in Dubai and experts agree that it is a launchpad to get into the more serious sport of car racing. Ayrton Senna, Michael Schumacher, Mark Webber, and most other F1 drivers had to prove themselves at that level before progressing through to the F1 level. There is an entire kartdrome on the territory of the motor-racing track in Dubai, and it is safe, with suits, gloves, and helmets for protection available at the venue.
Followers of Motorsports have every reason to be excited with the Dubai car racing scene and the year-round calendar is a testament to the city's commitment to racing. Let nothing hold you back from enjoying it to the fullest, and if ever you're experiencing any kind of car trouble, Carcility will ensure you're back on track in no time! Raise a service request now to avail best-in-class services! Book your car service in Dubai now!